After an overwhelming response to QuizATAhon, ATAGTR2019 is here with yet another competition : Selenium CPSAT Challenge
Selenium CPSAT Challenge Winners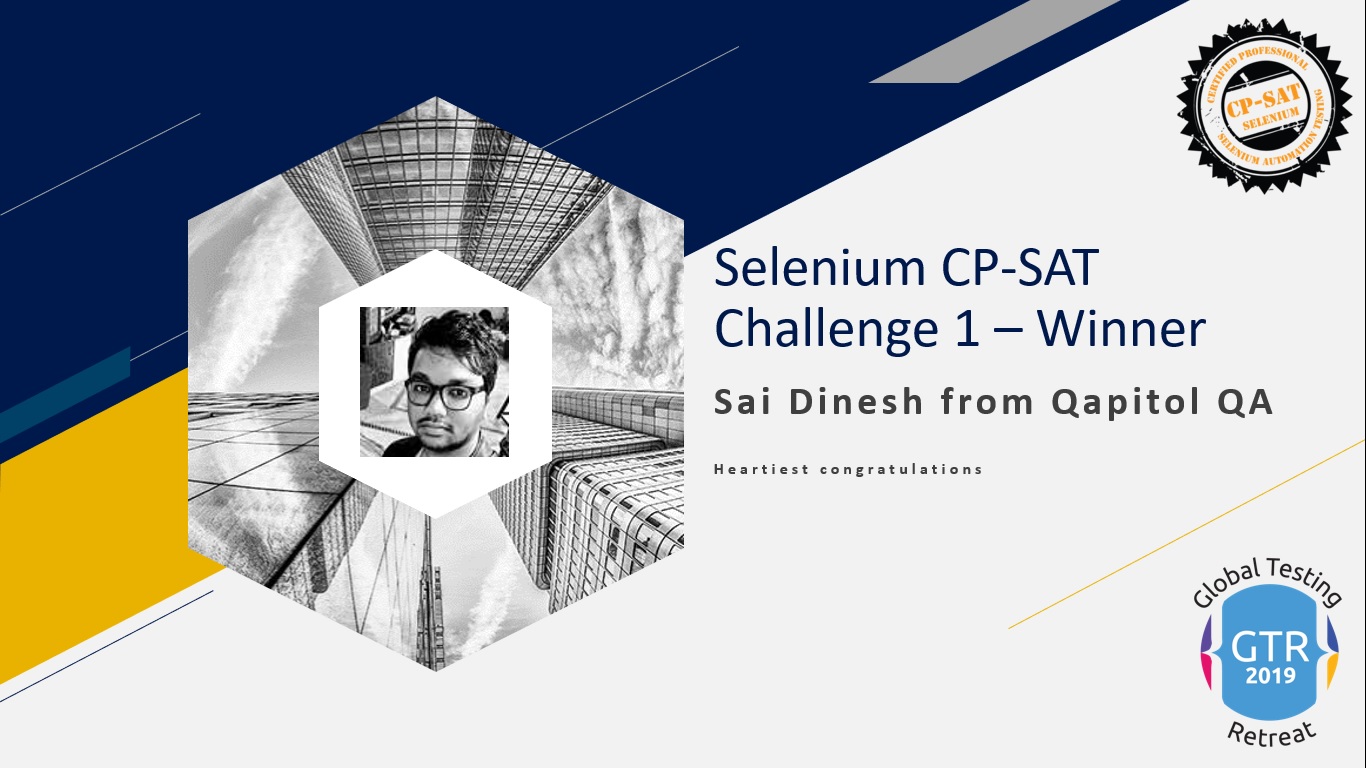 What you are going to win
5000/- INR Prize money
Free Conference pass for both the days of #ATAGTR2019
Leadership Points for your organization
This is the page for submitting your solution for the Selenium CPSAT challenge
Remember this is your entry pass to the best and most fun-filled global testing conference. #ATAGTR2019
About the Selenium CPSAT Challenge
This challenge requires you to solve a CPSAT Paper and Submit the scripts for evaluation. Solve the Selenium Challenge with Maven project and Submit the files using GIT Repository
Selenium CPSAT Challenge Submissions
| Sr.No | Name | Organization | Photo |
| --- | --- | --- | --- |
| 1 | Pratik Narvekar | LTI | |
| 2 | Abhinav Shingate | Kindred | |
| 3 | Ganesh Khairnar | Synechron | |
| 4 | Manali Jain | Chainvine | |
| 5 | Akshay Goel | Mann-India Technologies Pvt. Ltd. | |
| 6 | Neeraj kumar | Moolya Software Testing Private Limited | |
| 7 | Neo Tlaletsi | Nihilent Ltd | |
| 8 | Brahma Kothapalli | ValueMomentum | |
| 9 | M Hemanth Kumar | Cognizant Technology Solutions | |
| 10 | Ankur Singh | LTI | |
| 11 | Ravindra Sharma | BNY Mellon | Eagle Investment Systems | |
| 12 | Nayan Agrawal | Tech9 | |
| 13 | Rakesh Kondreddy | Ellucian | |
| 14 | Gowresh N | Business One Technologies | |
| 15 | Pravin Kumar | Amdocs | |
| 16 | Kanchan Jadhav | LTI | |
| 17 | Swapnil Pawar | Xpanxion International Private Limited | |
| 18 | Krishna Kamakshi Brahma | Qapitol QA Private Limited Services | |
| 19 | Dhanalakshmi | Emirates Group | |
| 20 | Sai Dinesh | Qapitol QA Services pvt.Ltd | |
| 21 | T.Navya | Qapitol QA Services pvt.Ltd | |
| 22 | Rahul Chavhan | SmartServ | |
| 23 | Snehajeet Subhash Tembhare | ADP(Automatic Data Processing) Pvt Ltd | |
| 24 | Vinoth Kumar | Qapitol QA Services pvt.Ltd | |
| 25 | Hrishikesh Wagware | FIS | |
| 26 | Shubham Mantri | Amdocs | |
| 27 | Ajith Athithyan R | Qapitol QA Services pvt.Ltd | |
Selenium CPSAT Challenge Submissions
| Sr.No | Name | Organization | Photo |
| --- | --- | --- | --- |
| 1 | Himanshu Kumar | Capita | |
| 2 | Kulshree Patil | Hong Leong Bank Berhad | |
| 3 | Snehajeet Tembhare | ADP(Automatic Data Processing) Pvt LTD | |
| 4 | Brahma Kothapalli | ValueMomentum | |
| 5 | Heet Pandya | KokoNetworks | |
| 6 | Ranjini Priya | Qapitol QA | |
| 7 | Sai Dinesh | Qapitol QA | |
| 8 | Sravani B | Qapitol QA | |
| 9 | Ankur Singh | LTI | |
| 10 | Mohammad Iqbal | Bengaluru | |
| 11 | Kamini Acharya | Qapitol QA | |
| 13 | Venkatesh Nandan Umarvaishya | Qapitol QA | |
| 14 | Shanmugam Yuvaraj | Qapitol QA | |
| 15 | Hrishikesh Arun Wagware | FIS | |
| 16 | Priyanka Mishra | Qapitol QA | |
| 17 | Krishna | Qapitol QA | |
| 18 | Vinoth Kumar | Qapitol QA | |
| 19 | Manikant | Qapitol QA | |
| 20 | Pravin Kumar | Amdocs | |
| 21 | Kushal Ganta | Qapitol QA | |
| 22 | Savita Arekar | DHL SmarTrucking | |
| 23 | Mohthashim Faraz M | Fresher | |
| 24 | Jaya | Pune | |
| 25 | Krishna Kamakshi Brahma | Qapitol QA | |
Rules and Regulations for Selenium Challenge 2019 :
Challenge has to be submitted individually.
Multiple entries can be sent through a Single Organization – One Best entry/solution will be selected from every participating organization
One best entry will be rewarded 1000 points on Leaderboard on GTR 2019 (https://gtr2019.agiletestingalliance.org/leaderboard/)
Overall Best (1 winner) in every contest will get FREE entry to conference and a cash reward of INR 5000
The reward cheque has to be collected on the day of the event (14-15 December, 2019). Please note that the cheque will be handed over personally and is not to be received by anyone else.
The same is non transferable and will cannot be collected on someone's behalf
There would be total 2 Selenium CPSAT Challenge running upto #ATAGTR2019
The Selenium Challenge is sponsored by CPSAT.
CPSAT is the number 1 certification in selenium. It is the only practical assessment certification. CP SAT is also the only certification globally available in Selenium which can be taken
in any of the three language streams – Java, Python, and C#.
Please look at the following URL.